We all know about Trademe.  They have recently raised their rates,  Trade Me said the fee for selling an item valued at $50 – about its average trade – would rise from $3.75 to $3.95, an increase of 5.3%.  The highest rise would be for items priced at $1500, for which success fees will increase by 8.1% to $79.50. There will be lower increases on higher-priced items and no change to the maximum $149 success fee.
Some users reported indignation as a couple months ago Trade Me reported an 8.4% jump in its annual profit to $75.6 million.    But it is hard for rivals to offer much competition as they lack a critical mass of buyers.
Who are the players in this market?
Trademe
I will start with Trademe because they are the biggest player in the New Zealand market.
Looking today, they have:
61,481 cars
121,502 properties and houses
11,000 jobs
60,996 People online right now
3,069,281 active members
2,218,319 current listings
So, clearly they have good volume.  It is fair to say their volume is bigger than everyone else combined.
What are their fees like?
Basic listing     Free
Gallery     55c (25c for books and CDs)
Then if you sell, they charge a success fee:
Up to $200     7.9% of sale price (50c minimum)
$200 – $1500     $15.80 + 4.9% of sale price over $200
Over $1500     $79.50 + 1.9% of sale price over $1500 (max fee = $149)
This is the major area of contention for users and competitors, as most competitors starting up new businesses are advertising lower fees or no fees.
Sella:
Sella.co.nz has a web page that lists the pros and cons, comparing them with trademe but obviously some of this may be marketing hype.  The primary difference is Sella is free of commissions or success fees.  Their description is:
Pure and simple, it's free to buy or list. Our business model is to make money selling advertising on the site as well as offering featured listings, where for a small fee, users can buy priority ranking (ie: display their listings above others).
Having said that, while the listing may be free, the volume is a lot lower than trademe.  Here are their stats:
550,000 members
480,000 listings
415,000 users per month
Wheedle
Mainfreight co-founder and Rich-Lister Neil Graham is taking on Trade Me with a new online auction and classified site, Wheedle.co.nz.  Wheedle promises to be a lower cost alternative to trademe.
But after opening, and trading for a couple of days, Wheedle announced it woud close its online marketplace while it carries out a "thorough update" of its systems and processes.   Managing director Carl Rees did not give an indication of how long that might take.
He said Wheedle would not reopen until its management team were "completely confident its performance and processes meet the standards expected by New Zealand consumers".   Wheedle's website went offline after a blogger identified a fault that let people change the reserve price of other members' auctions.
Asked in October when the site would reopen, general manager Carl Rees told NBR,
"At this point in time I have no idea. Hopefully before Christmas but it could be the New Year."  "The fixes are minimal compared to the size of our entire source code and development. We identified the areas where we had problems and we have engaged an independent company to do the fixes … for peace of mind."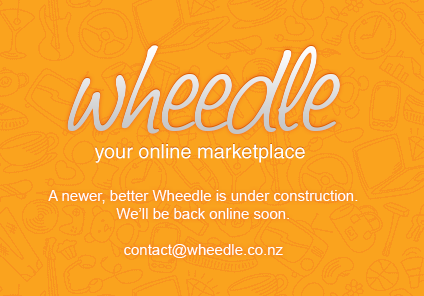 It is not clear what fee if any will apply for under $20. Sellers won't like a fee if it does not sell at all. But the fees are a lot cheaper than Trade Me. However the major factor is price. Say your item sells for $50. Then it is $1 on Wheedle and $3.95 on Trade Me making it a net $49 vs $46.25.
Knomee
Knomee.co.nz promises to be another alternative, with free listings.
http://www.facebook.com/Knomee is the only information at the moment until their site goes live.  Today is the day it is supposed to happen but no sign of life yet.  Sounds like it is supposed to happen at noon.
Knomee charges no commission on sales and no success fee.
EBay
The elephant in the room that nobody is talking about is Ebay.  Your guess is as good as mine why they do not have a presence here.
My assumption is that the market is just too small for them to care.  If they do try and gain a foothold here, I believe they will have an easier time (at stealing market share from trademe) than the other new players, because they have a proven website, and there will be no growing pains.  But until then, we need to pick from trademe or one of the newer alternatives.
Which do you prefer?